Hi guys!
My browser bookmarks collection mostly consists of links to wonderful online shops and I click around from time to time and create new wishlists over and over again. I've never made it to buy everything one of these wishlists contained, but I guess that's why it's called wishlist and not buylist ;)
Anyway, I thought I could share these lists with you from time to time, so here we go with
online finds #1:
1.
Essie "Mint Candy Apple" nailpolish
Isn't this a perfect colour for spring? I love candy colours!
This nailpolish would look adorable with a floral sundress.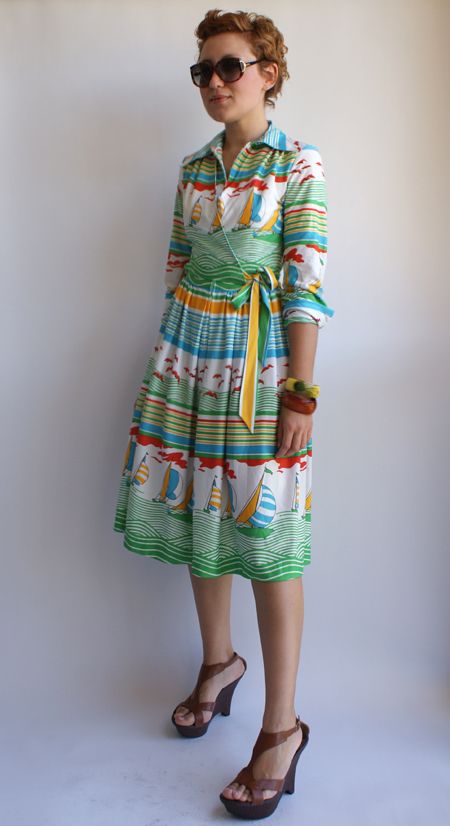 2.
California Vintage Connect
"Nautical Bird Sailboat Dress"
Isn't this one of the prettiest vintage dresses ever?
I'm so in love with the colourful print!
3.
Les Queues de Sardines
"Daphne" tights
They have the most whimsical and awesome tights! Actually I don't only want
these from the photo, but a pair of every design they have :)
4.
Little Ocean Annie
Straw and Raffia Mexico Tote
This would be a great bag for uni, work or shopping in spring/summer because it
looks as if there's a lot of space for all kinds of stuff in it.
It's a pity they only ship within the US.
Note to self: get a straw bag for summer!
5.
Epoca Eclectic
"Retro Modern Teak Wood Deer"
I've been flirting with this cute little deer for a while now and I really love this kind of deco.
It would look perfect on our living room cupboard. But I always have to think about how much I should invest in "useless" (but pretty!) things...
6.
Kittyrobot
"Little Birds Fabric Button Set"
Can you imagine these buttons on a plain white blouse? It would look so darling!
I know it's embarassing, but I can't even sew on a button, but I really
want to learn sewing after my bachelor studies! I wish I could already sew...
7.
TushTush
"Bird Print"
Birds belong to spring and they are one of the prettiest motifs for all kinds of things
I think. I'd love to own this fantastic print for our living room. Check out their site,
they create amazing art!
8.
ohhellofriend
"Soul Captive Robot Love Necklace"
Really cute little guys, aren't they? Lovely to pimp up simple jeans and shirt outfits!
That's it so far. More wishlists to come for sure ;)
Happy Saturday! :)
now playing:
Kate Nash - Mariella