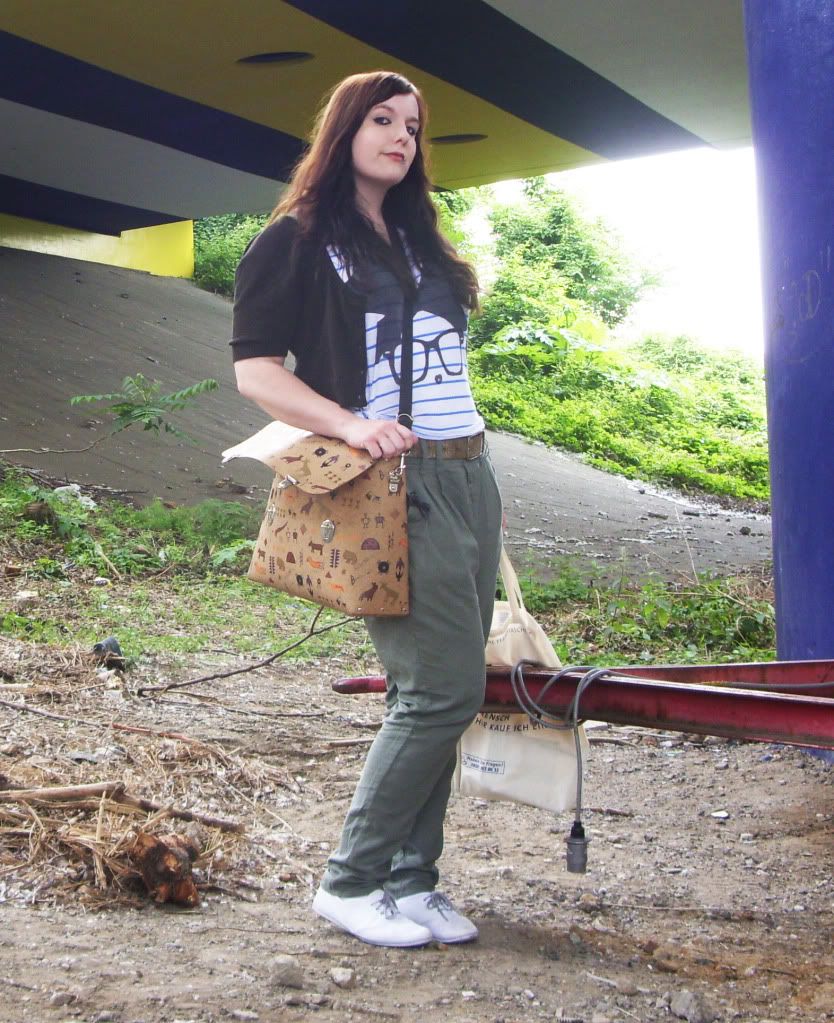 Hi guys!
It's really sticky weather in Germany with a high air humidity, so what to wear?
I tell you: my new babies, these awesome pants I told you about yesterday! It was so hard to find these kind of pants in a size and cut that fits me, but finally it was worth walking Cologne's biggest shopping street up and down like crazy :)
After wearing them for the first time today I am in love with how comfy they are. It felt like going to work in my pyjama pants! Imagine one could go to the office in pyjamas, what a wonderful world would this be? I think many people would do better jobs in comfy pants :D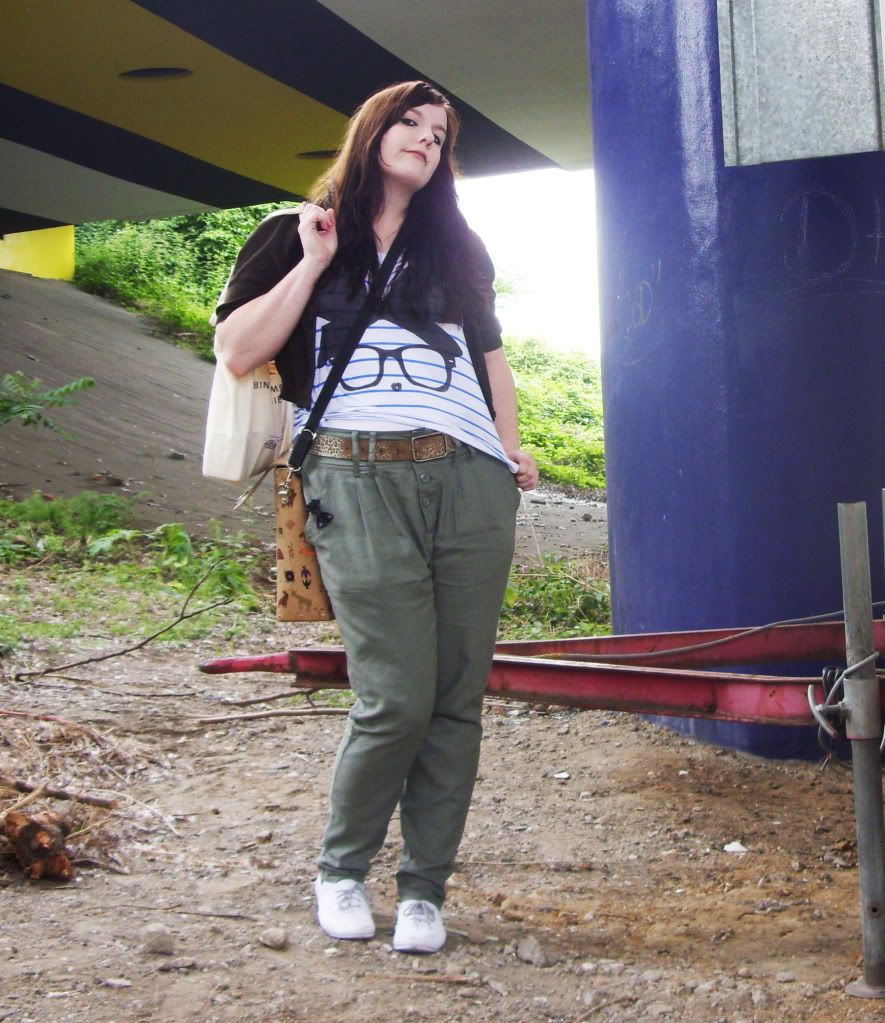 pants: new yorker, shirt: zara, belt: c&a, cardi: promod, shoes: ebay, bag: reisenthel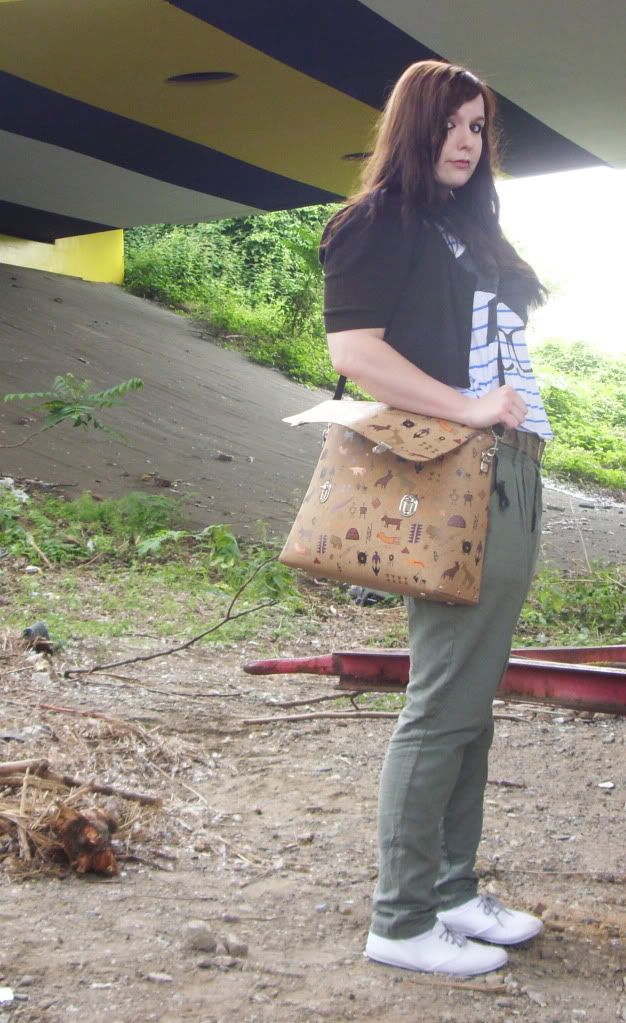 Anyway, I styled them nice and casual with the knotted loose fit shirt (knotting rules - if I wear this shirt without a knot I look like I'm pregnant), the same brown cardi like in the last post and my comfy white favourite 1 Euro summer shoes :)
I must say despite of sweating like hell, I felt very stylish today - well, stylish but comfy, ha! Even my colleagues payed me compliments for the pants, although we're not really a fashionable office. I was so happy, today really outweighted the stress I had to find these trousers. Sometimes it's so stupid, but days like today make me happy.
A simple person can be satisfied with simple things, haha ;)
Oh and I took out my new bag. I purchased it via Ebay to be my new laptop bag but it's too small. Now I'll use it as a normal one for work and uni. Isn't it cute? It's made of cork, so quirky. And I love all the cute little creatures on it and that it looks like those vintage schoolbags with these buckles!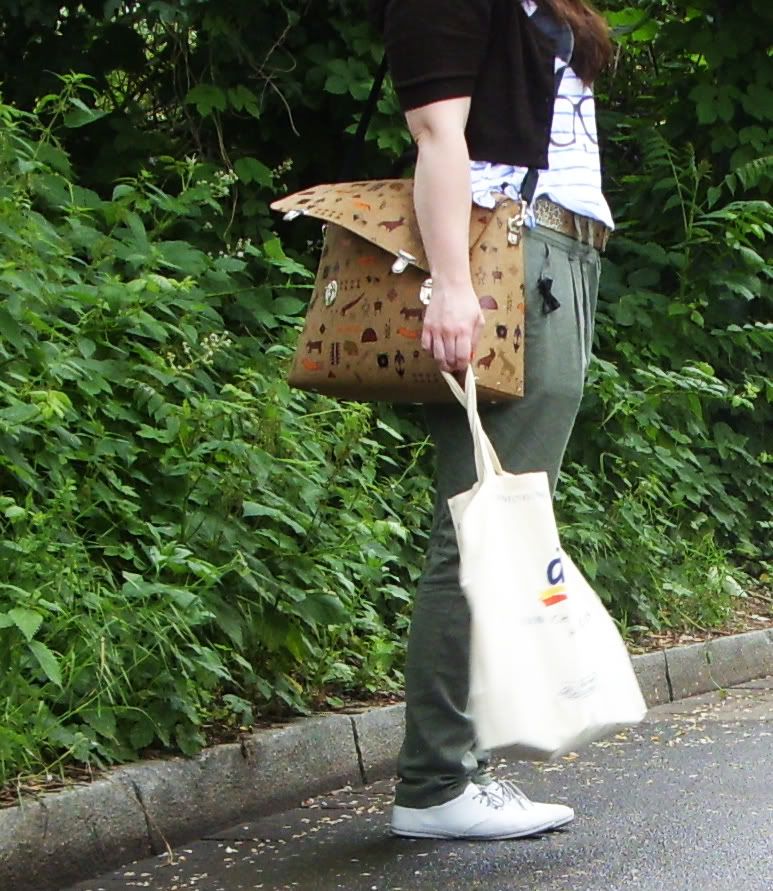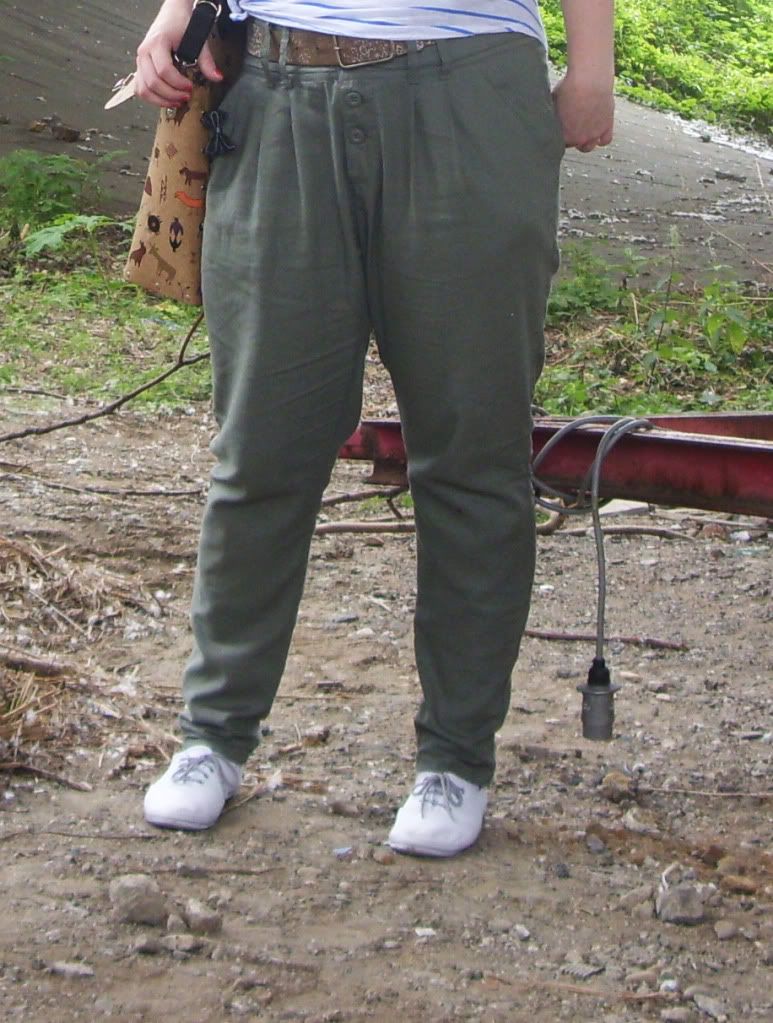 Oh by the way: near to where I work there is this highway bridge where I always park my (well, let's say Patrick's) car, so before driving home I took some pictures there. You know, for the sake of variety concerning my photo backgrounds.
Hm okay, here are some more photos (of what happened yesterday):
I tried out these veggie toasties...
...and they were pretty disgusting. Patrick tested the ones with pork in them,which were a bit better. But in general it's rather not something I would snack on from time to time.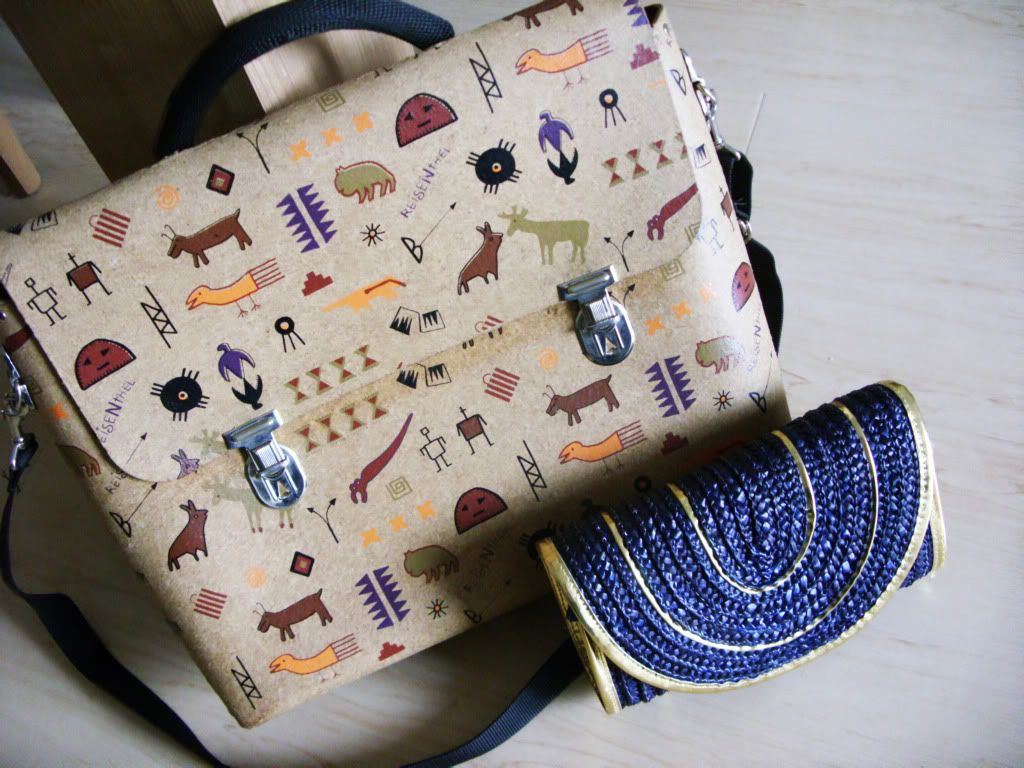 I had two new bags in the mail yesterday! The cork one you already know now and a cute little straw purse. Remember my
feature on straw bags
for summer? Now I got one! But I also want another one in this typical straw-beige.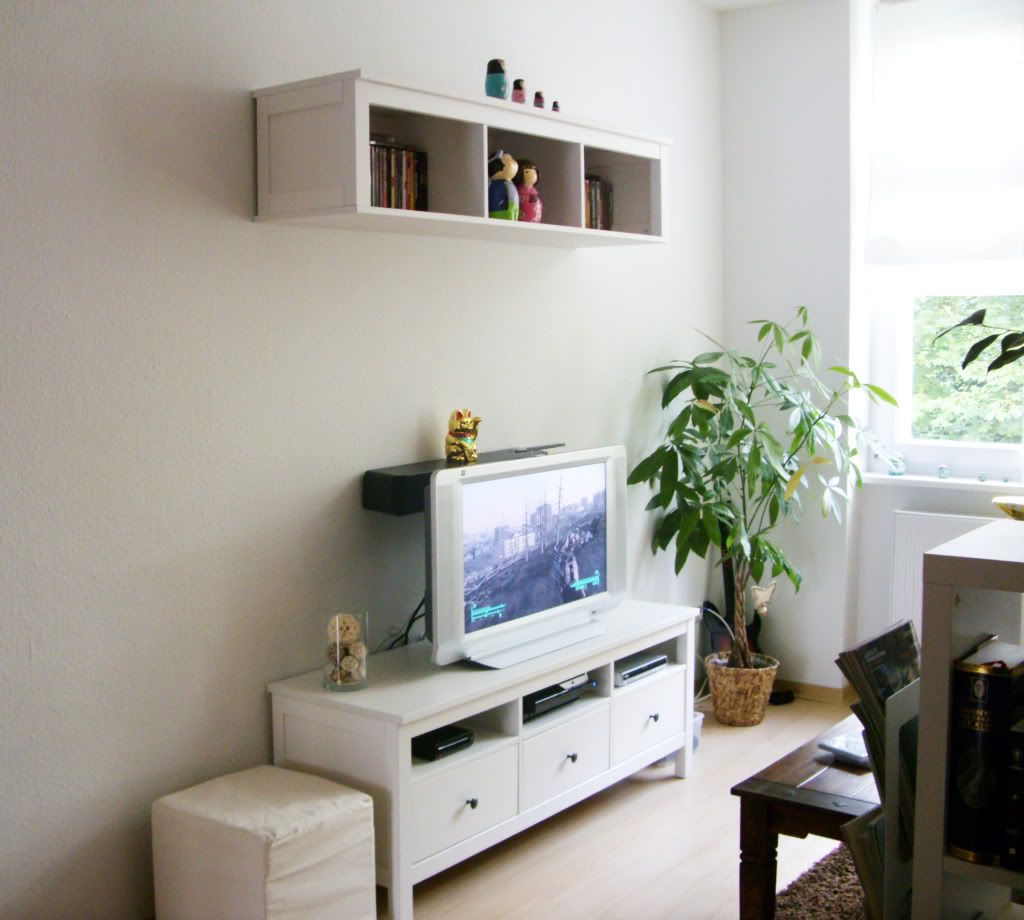 We bought new furniture for the living-room! Let me introduce you Ikea's Hemnes as a drawer and as a shelf. It looks so shabby-romantic, I love it! We're planning to buy a brown
dandelion wall tattoo
for the spot between TV and shelf. What do you think?
Okay, now I need to head over to the sofa to watch the Germany's Next Topmodel finals. I'm not really amazed by the last three girls, but if I had to choose the winner of these three I would pick
Hanna
cause she's much more likeable than the other two (
and
Alisar
).
Have a wonderful day! :)



now playing: the ian carey project - get shaky