(source künstlerhaus spiekeroog)


Hi guys!

Inspiration of the day are the playful and wonderful tattoos of Fabio Moro aka Morof.

A friend of mine forgot a tattoo magazine here when she visited me and when I flipped though the pages I stopped at a report about the Italian Fabio Morof and fell in love with his lovely style.
I know a lot of my favourite fashion bloggers have awesome tattoos and probably some of my awesome readers, too, so I want to share his art with you all.
Eventhough I don't have a tattoo yet, this guy could maybe make me save money to fly down to Genua and get it done someday :)
He is not only tattoo artist, you can see lots of other works of him on his website
morotattoo,
the pictures he draws and paints are amazing!




(source huber verlag)
I love this kinda crayon-drawing style of most of his works.





(source tätowier magazin)
Very different from normal pet tattos,right? ;)





(source tätowier magazin)
His tattoos often are homages to fairytales and children's books, as here The Very Hungry Caterpillar :)





(source huber verlag)
His interpretation of Alice in Wonderland.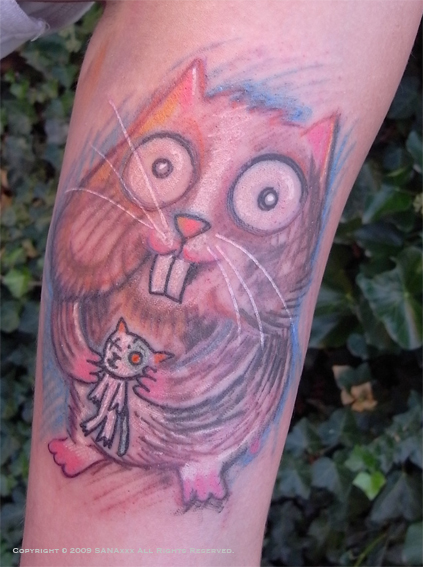 (source tat2 burst)
Aren't his motives simply amazing and cute?





(source orkpiraten.de)
I bet you haven't seen a batman like this before.


Well, the pictures I could find on the internet we not many, so I can just tell you to go and check out his website because there you will see his art in all its beauty.


I've always wanted a picture of a swarm of birds as a tattoo, something like these birds here, but with colour:



By the way this is a picture of the artist Seonna Hong, I love her unique style, too!

So can you imagine some birds like in the picture but in Fabio Moro's tattoo style?
I think it would look great.
Ah well, someday...

Oh and if you don't know Fuck Yeah, Tattoos!, you should go and take a look.
It's a tumblr page that collects all kinds of tattoo motives, so it's a great source of inspiration for all tattoo lovers, too.

Have a nice day! :)