Hi guys!

Maybe you remeber the post where I solved the mystery about who I met on my very first blogger meet up in March April? It was Mona of Summertime Dreams.
Well, we had planned to write our posts about our day and then post them at the same time so we could link back to each other and now three two months full of other things to do have passed and I'm finally posting it, yaayy ;)
Due to the time difference between our countries she will post hers some hours later but oh well at least we finally made it, right? So here it is.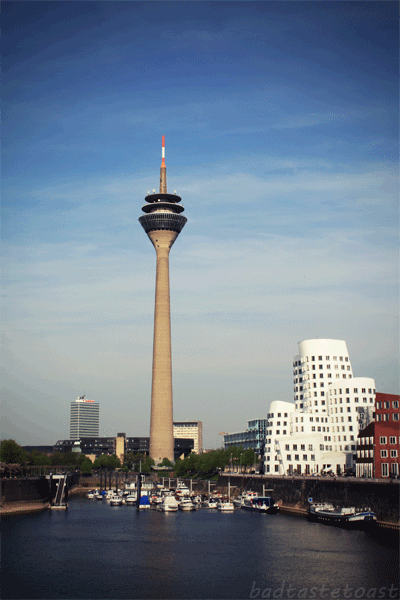 Düsseldorf's famous tv tower

one part of the famous Gehry buildings

So on a wonderfully sunny day in March April I worked until noon and then afterwards I went downtown to meet Mona. We had been blogging buddies and e-mail pen pals before and she had written me about her friends in Germany and that she was going to visit them and if I'd like to meet her when she'd be visiting Düsseldorf with one of her German friends in March and somehow six month went by so fast and she was there :)
Funnily enough we both were so occupied with the whole situation that we forgot to take photos, that's why we don't have that many of us together. But even without taking many photos we had a lovely day :)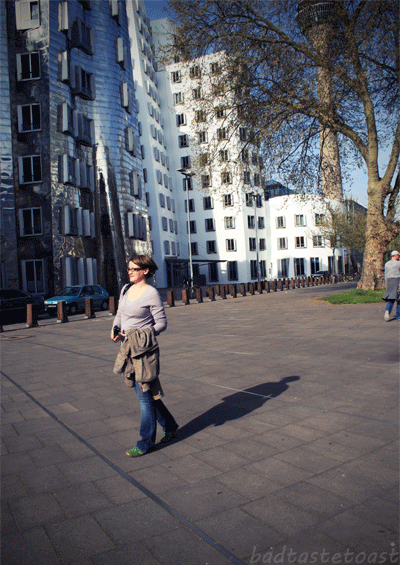 Mona in front of the Gehry buildings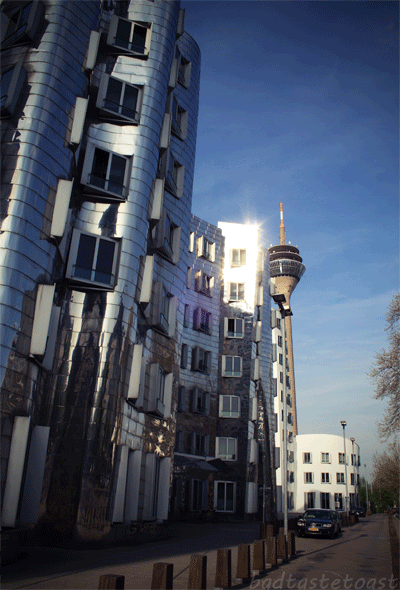 sunshine on the silver façade



We actually started our Düsseldorf tour downtown at the Kö (the city's luxury shopping street), wandered around in the old town, went to the Rhine and through the little lanes. Afterwards we went to the Medienhafen to look at the famous buildings and to grab some food. All the photos in this post were taken at the Medienhafen and fortunately Mona's friends and a stranger were so kind to take photos of her and me. Now at least we have the evidence that we were both there at the same time haha ;)
To top off the day we sat down in a restaurant called Zollhof and had delicious pizza. Yummy :)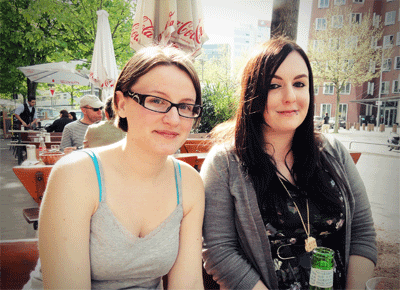 tadaa that's us :)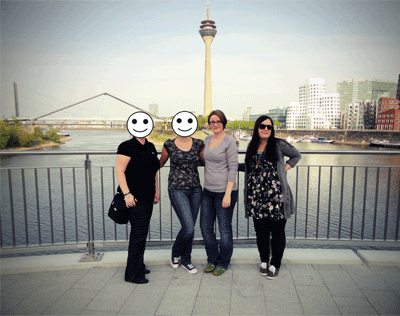 the four of us (I had to garble the heads of Mona's friends)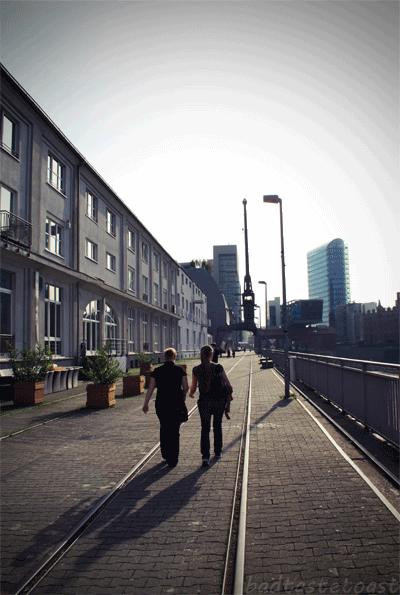 walking down the promenade



It was a really nice day: nice people, beautiful weather, good food. Meeting Mona was awesome! I had never met an other blogger before, especially not a Canadian one and she even was so cute and brought me some Canada souvenirs from her homeland (I LOVE the beaver in the Mountie uniform so much!). She is such a lovely person and it was cool to be able to talk to her and show her Düsseldorf. I wish I would have been able to accompany her on her Germany trip! Düsseldorf was only one of the many cities she went to with her friends. You can see more photos of her trip over at her blog, for example the ones she took when visiting Berlin or Hamburg.
Mona, thanks a lot for the great time we had! The day was too short but I really enjoyed it and I hope we'll be able to meet again someday (maybe if I ever manage to travel to Canada?!). Until then we have e-mails and Facebook ;)

I hope you guys enjoyed the photos and maybe even head over to Mona's blog to read her post about our day! :)





now playing: the gaslight anthem - even cowgirls get the blues