(view from my room's balcony)





Hi guys!

My first day in Budapest is almost over and I'm so glad that there's free internet available with the laptop here so that I can blog and use Facebook and all. This makes me feel at home at least a little bit, which is nice because I don't know what to do all alone in a hotel room in a city where the language couldn't be more foreign to me ;)

I'm out and about since 4 am in the morning and had one or two low points when the only thing I wished for was a bed, but I followed through because I didn't want to waste a second of my only day off here. I arrived at 9.30 am and couldn't check in at the hotel before 2 pm anyway, so I left my luggage at the hotel's luggage room and went downtown.




It feels really strange that I can't understand any single word of the Hungarian language. Normally when I went to Brussels or Paris I was able to derive French words from English or Latin (or both), but here I have no idea of word stems, pronunciation or anything else. This definitely makes me feel lost in certain situations but fortunately some Hungarians speak English too. By the way I already learned my first Magyar (Hungarian) vocabulary: "köszönöm" means thank you. Oh there are so many umlauts in this language ;)

At 2 pm I was finally able to enter my room and freshen up, comb my hair, put on fresh clothes. It's the little things that make you feel better again after you've run around like a homeless girl all morning, no?




I put on this breezy skirt because of the not warm but kind of sticky weather here. Then I grabbed my bag, went to the elevator and... as soon as I walked outside the hotel it began raining cats and dogs. Nice! Same weather as in Germany when I left this morning.....
So I got me an umbrella and headed back downtown to spend the rest of the day roaming around the main shopping street and looking at all the nice things. I love that all shops are open on a Sunday here! Is Germany the only shitty country that has this stupid rule for all shops to be closed on Sundays?

Anyway, on my way through the streets I discovered a lovely little bazaar in what seemed to be a kind of artists district. It was raining and raining, but all the lovely crafted DIY things made me forget the weather and i swooned over some handmade jewelry and decoration. I admit I was too much a coward to take photos of the items because I didn't know if the vendors would have liked it.




As it didn't stop raining and as I began to feel cold in my breezy skirt I decided to give in and go "home" resp. to the hotel. On my way to the station I discovered a Pull&Bear, Stradivarius and Bershka and snatched a shirt and a belt in their sale (we don't have these stores at home so I was pretty thrilled hihi). I also got me a not-so-yummy ham and eggs sandwich at the supermarket and took these snapshots on my way back to my hotel:



rain, rain, go away...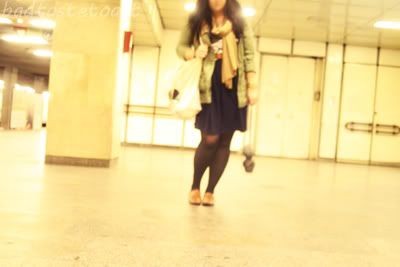 failed self-timer experiment (but nice soft lighting)



one of the many lovely little shops I saw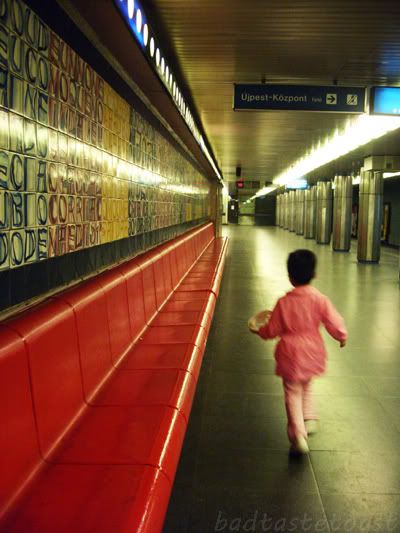 this kid ran into my photo :D I actually wanted to capture the benches and wall design


You know what? I'm so tired, I think I'll call Patrick, smoke a good-night-cigarette on the balcony and call it a night. More Budapest impressions and stories about my first day at the office tomorrow.

Have a nice day!



now playing: band of horses - is there a ghost